AGRI-PROFILE: PUERTO GALERA,
ORIENTAL MINDORO
Puerto Galera, Oriental Mindoro
Puerto Galera, officially the Municipality of Puerto Galera, is a 1st class municipality in the province of Oriental Mindoro, Philippines. According to the 2015 census, it has a population of 36,606 people.
It is located at the north-westernmost part of Oriental Mindoro, and at the south-western end of the Isla Verde Passage, about 130 kilometers (81 mi) south of Manila. It is mainly accessible from the Southern Luzon gateway port of Batangas by bamboo boats (bangka) operated by local regular operators. Seaplane Operator Air Juan Aviation, Inc. flies 2x daily flights from Manila to Puerto Galera vv. on their Cessna Grand Caravan Seaplanes.
Puerto Galera is 51 kilometres (32 mi) from Calapan, the provincial capital.
Utilization, support facilities, and farming techniques
Due to generally elevated terrain with slopes ranging from 15 degrees and above, local farmers preferably cultivate perennial crops. Coconut is considered the major agricultural crops in the locality covering about 2,625 hectares. Because of increasing demand for high value commercial crops, expanding land utilization by adding mangoes, citrus, rambutan, lanzones, banana, pineapple and others has become the strategy. Though most of the farm workers grow vegetable products like pole string beans, okra, eggplant, upo, squash, pechay, mustaza, bitter gourd, tomato, and others. Integrated farming techniques is a common practice where livestock production are combined with rice. During lean season, local farmers shifted to fishing activities for their daily subsistence.
Farm-to-market roads (FMR) are available in every barangays but remain to be inadequate. Majority of the FMR requires proper maintenance to keep them passable at all times particularly during rainfall months. Whereas there are still production areas which remained not served by FMR.
Identified post harvest facilities are two (2) ice plants and a slaughterhouse. Other agricultural support facility includes agri-vet product stores that supply farm inputs. The municipal public market serves as trading center of farm produce.
For the past five years (2003-2007), production pattern is quite unimpressive especially banana where production nosedive from 7 metric tons in 2003 to 2.5 metric tons in 2007. Decrease in production level started to manifest between 2004-2005, except for root crops and leafy vegetables showing slight increase, from 5.5 MT to 6.5 MT, and 3.0 MT to 3.5 MT respectively. Data shows increasing trend between 2006-2007 indicating slight recovery in agricultural production except for root crops and banana. Between the same year interval, rice yield increased by 4 cavans/ha., from 96 cavans/ha.(4.8 MT) to 100 cavans/ha.(5 MT).
Production Pattern (2003-2007)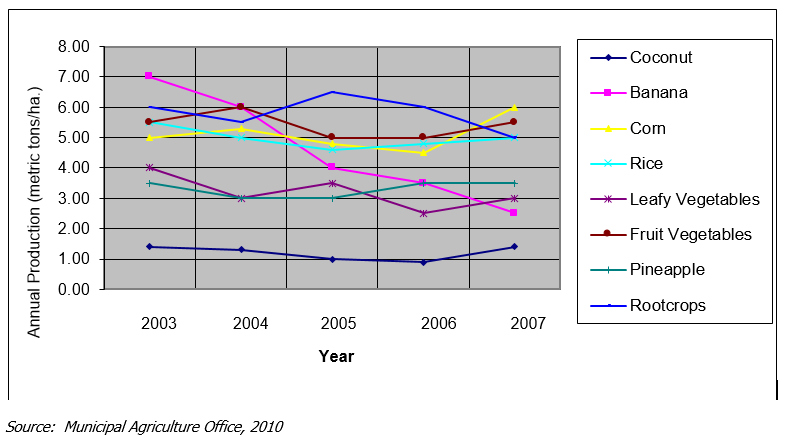 Twelve (12) out of 13 barangays are located along the coastal area. Practically, fishing is one of the major sources of income. The use of fish net, hook and line, thrawl, small basing, ring net, hayhay, and "pana" or arrow are commonly used for fishing. Among the species available for commercial fishing includes herring, anchovy, salmon, tuna, etc. Using a motorized banca, local fishers rarely set off to Palawan for commercial fishing. A total fish catch is estimated at 75 metric tons annually.
Major livestock and poultry products include cattle, carabao, goat, horse, swine, duck, and chicken. For the period 2003-2007, an increasing livestock and poultry production has been observed except for chicken where total stocks decreased by 8,500, from 125,000 in 2003 to 128,000 in 2004. In 2007, the number of stocks shoot-up to 137,000 giving a total increase of 16,000 stocks. Cattle has been consistently increasing annually, the increase in stocks grows from 300 heads between 2003-2004 to 711 heads between 2006-2007. Duck production also grows annually ranging from 800-1370 heads per annum. Swine exhibited increasing trend in production, though, the level of increase is considered to be nearly insignificant.
Considering the province's 2004-2005 livestock and poultry production, Puerto Galera shares considerable stocks of chicken, swine, goat, and cattle. In 2005, the municipality generated 16% of the province's cattle and chicken production. In the same year, the municipality represents 13% and 12% of the province's total goat and swine production respectively.
Inventory of Livestock and Poultry
Species
Population
2003
2004
2005
2006
2007
Cattle
2,700.00
3,000.00
3,503.00
4,139.00
4,850.00
Carabao
354
380
398
427
469
Goat
2,800.00
2,890.00
2,890.00
3,150.00
3,530.00
Horse
19
25
31
33
48
Swine
8,500.00
9,300.00
10,480.00
11,850.00
12,780.00
Duck
1,160.00
1,300.00
1450
1,690.00
1,765.00
Chicken
125,000.00
128,000.00
119,500.00
121,000.00
137,000.00
Percentage Share to Province's Livestock and Poultry Production (2004 - 2005)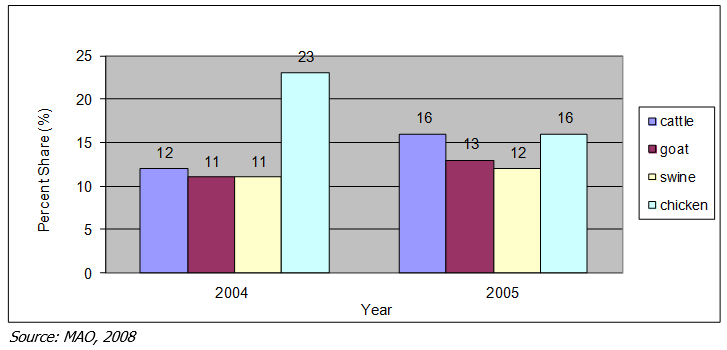 Commercial swine production are located at the interior part of Barangay Balatero. The production level however still falls on backyard scale which is potentially approaching small scale.
Generally, inventory of licensed commercial establishments for the CY 2007-2008 shows increasing trend for both the total number of commercial establishments and number of employment. Most of the licensed commercial establishments are categorized for hotel and restaurants, transport and storage representing 68.15% and 70.54% of the municipality's total commercial establishments for 2006 and 2007, respectively. The result shows that tourism practically influenced preferences on commercial investments. The increasing number of establishments and employment among tourism related commercial activities also suggest competitive tourism industry.
Wholesale and retail was seen to be the second most preferred commercial investment. Though there was a slight decrease in the number of wholesale and retail trade establishments between the same year, the number of employment grows by 27.10%. Similarly, health and social work category decreased by the number of establishments but the employment statistics show remarkable increase by 33.55%. Presently, there are three (3) automated teller machines (ATM) servicing local and foreign clients. The two-year comparative inventory implied an expansion in terms of operation and employment capitalization, and greater economic potential for the two commercial economic categories.
Percentage Share to Province's Livestock and Poultry Production (2004 - 2005)
Economic Activities
2007
2008
Increase/Decrease
No. Of Establishment
No. Of Employment
No. Of Establishment
No. Of Employment
% Of Establishment
% Of Employment
Wholesale and Retail Trade
323
107
322
136
-0.31%
27.10%
Hotel and Restaurants, Transport & Storage
1,329
1,466
1,552
1,568
16.78%
6.96%
Communication
16
68
16
75
0.00%
10.29%
Financial Intermediation
17
24
23
30
35.29%
25.00%
Real Estate Renting,and business Activities
54
40
61
32
12.96%
-20.00%
Public Administration and Defense
1
1
1
1
0.00%
0.00%
Health and Social Work
1
5
1
5
0.00%
0.00%
Other Community Social and Personal Service Activities
28
155
23
207
-17.86%
33.55%
Other Community Social and Personal Service Activities
131
417
149
494
13.74%
18.47%
Private Household with employed persons
50
60
52
72
4.00%
20.00%
TOTAL
1,950
2,343
2,200
2,620
12.82%
11.82%
Source: Municipal Agriculture Office of Puerto Galera, Oriental Mindoro
Subscribe to our AgriInfoHub newsletter and receive the latest updates, expert insights, and valuable tips to cultivate success on your farm.